We can examine your teeth and provide care with higher accuracy when we take dental X-rays of your teeth and gums. We use this equipment at the practice of Dr. Thomas Ouellette in order to show us places in your mouth that we normally cannot see. Contact our dentist today by calling us at 303-296-1402 if you want to learn more about our digital radiography in Denver, Colorado.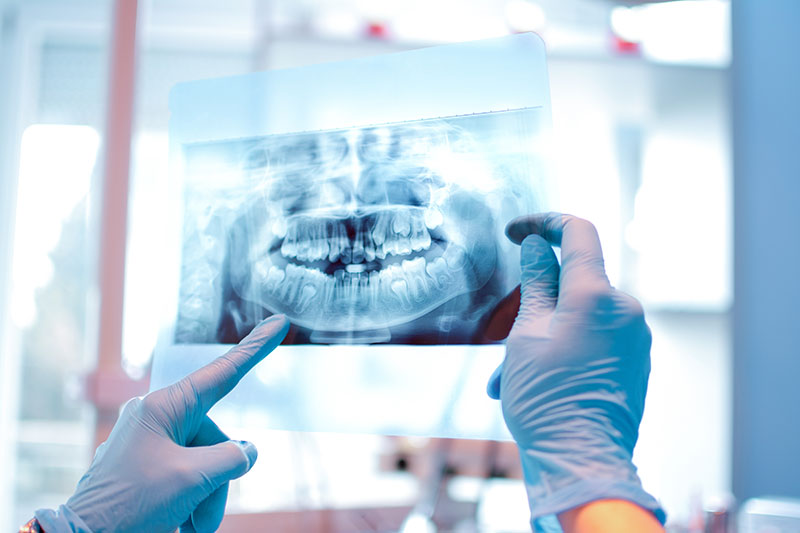 Digital X-rays are one of the advanced diagnostic tools our dentist and team use when providing your care. Digital radiography has changed the way we take dental X-rays, making the imaging process faster, more comfortable and more convenient than ever before. Digital X-rays are also safer than traditional film X-rays, as they produce up to 90% less radiation and do not require the use of toxic chemicals to produce images of your teeth and supporting oral structures.
Digital X-rays use a digital sensor to capture images of your teeth and mouth. These images are then transferred immediately to a nearby monitor where our dentist can view them. This allows us to make faster and more accurate diagnoses as well as helping you understand your oral health and possible treatment options.
Digital X-rays may be used to diagnose a number of dental problems, including:
Tooth decay, including decay between the teeth
Developmental abnormalities
Improper or unusual tooth root positioning
Cysts, abscesses and tumors
Fractures in the teeth or in existing restorations
Infection in the tooth nerves
Bone loss
Digital X-rays are also used to plan treatments, including oral surgery procedures, orthodontic care, root canal treatment and dental implant placement.
Give us a call today to learn more about dental X-rays and make an appointment with our dentist!