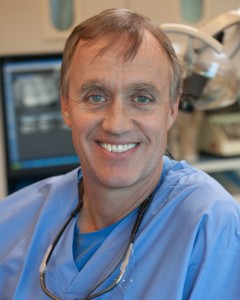 Thomas E. Ouellette, DDS
A native of New Hampshire, Dr. Thomas Ouellette is a 1991 graduate of the University of North Carolina School of Dentistry. He has distinguished himself in the field by co-authoring research articles and engaging in a variety of research projects designed to improve dental practice and technologies.
After receiving his dental degree, Dr. Ouellette completed a one-year residency at the VA Medical Center in Denver. He has extensive experience in prosthodontics (crowns, bridges, dentures, and implants), restorative dentistry (fillings), endodontics (root canals), oral surgery (extractions), periodontics (gum disease), and pediatric dentistry. He was an associate in dental practices in Boulder and Broomfield, Colorado, and Nashua, New Hampshire, prior to assuming the dental practice of Dr. James McIntyre in 1996.
There have been incredible advances in dentistry recently, and Dr. Ouellette strives to stay abreast of these advancements through a commitment to continuing education. He incorporates into his practice the latest technologies available in both the diagnostic and the clinical treatment procedures, including digital radiography, in-office 3D scanning, and CAD/CAM restoration fabrications. Dr. Ouellette has been voted as a Top Dentist in Denver by 5280 magazine each year since 2008.
Patients and his peers have given this honor for his comprehensive care philosophy, his clinical expertise, the professionalism of his staff, and his desire to educate patients regarding their oral health and the options available to help patients achieve maximum satisfaction with their oral health.
---
Meet Our Team
Our dentist in Denver, Colorado, is aided by personable team members who work well together and treat our patients like family. Patients of all ages will enjoy visiting our friendly team for quality oral health care. Take a look at the biographies below if you would like to learn more about our team members.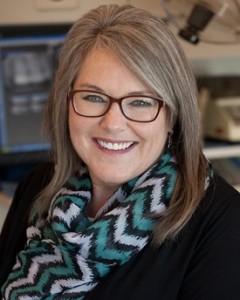 Sandy Artichoker — Office Manager
Sandy grew up on a horse and cattle ranch in southern Colorado and is still an avid horsewoman who previously shared her love of horses by providing equine therapeutic riding to developmentally and emotionally disabled adults and children. Sandy is also a registered dental hygienist and practiced for 16 years prior to assuming front office duties. Sandy practiced with Dr. Thomas Ouellette in 1992, prior to Dr. Thomas Ouellette assuming Dr. McIntyre's office. Sandy is married to Ben, and together they have a daughter, Sabra, and a son, Jace. Jace played hockey with Dr. Ouellette's son, Erik, for two years in Boulder.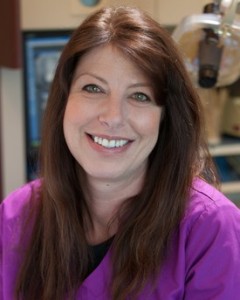 Elizabeth Collins — Practice Assistant
Elizabeth is a Front Range native, having grown up in Wheat Ridge, Colorado, and attended the Emily Griffith School to become a dental assistant. She first began working for Dr. Thomas Ouellette in 2003 and divides her time between assisting Dr. Thomas Ouellette and helping Sandy with front desk duties. Elizabeth loves fishing, reading, and actually enjoys spending time with her teenage kids (most of the time!), Conner and Kaylee.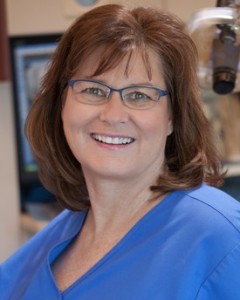 Nancy Leary — Dental Hygienist
Nancy is a 3rd generation Colorado native, a rarity given how Colorado has grown recently!  Nancy graduated from Colorado Northwestern Community College in dental hygiene in 1977 and received the Colorado Dental Hygiene Award for Clinical Excellence that year, as well as the Who's Who in Vocational and Technical Students Award. She is married to her husband Mike, and together they own Leary Racing Products Inc. While having no children of their own, Nancy and Mike are proud of their 11 nieces and nephews and 10 great-nieces and nephews. Nancy has volunteered for several years with "Sense and Security," a breast cancer charity, and is the chairperson of their major fundraising event, "Champagne and Diamonds." Nancy is a member of the National Association of Professional Women, and has worked for Dr. Thomas Ouellette since 2002.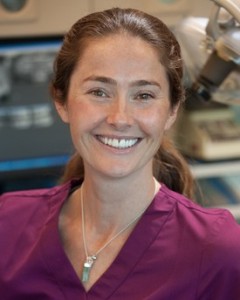 Misty Mayhall — Dental Hygienist
Misty is a native of Monahans, Texas, and moved to Colorado in 2011, starting work at Dr. Thomas Ouellette's office soon thereafter. Misty received her B.S. in dental hygiene from the University of Texas Health Sciences Center in Houston. Misty may have grown up in Texas, but Colorado is where she feels at home in our beautiful mountains, hiking with her 2 four-legged fur-babies, Keyser and Arthur. Misty finds yoga keeps her physically ready for hiking and for practicing dental hygiene.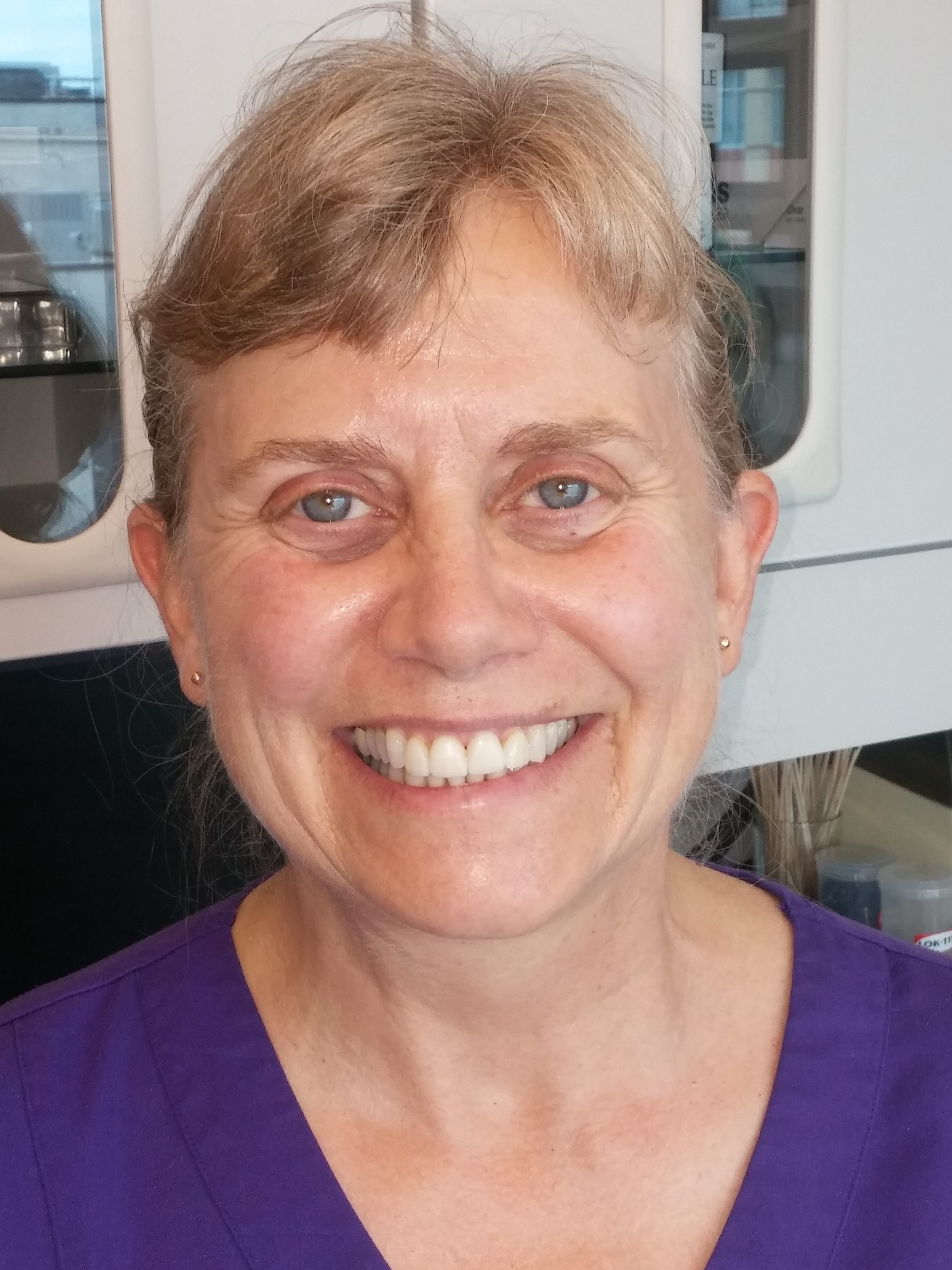 Kit Cohen — Dental Hygienist
Kit is a former hydrogeologist who changed careers so she could care for and educate patients about their oral health. Kit graduated from the Community College of Denver in Dental hygiene in 2008, and received the American College of Dentists Award for Clinical Excellence. Kit served as the "designated temp" for Dr. Thomas Ouellette's office starting in 2009, and joined the staff as a permanent employee in 2015. Kit is married to her husband, Stuart, and shares his love for backcountry skiing, mountaineering, mountain biking, and hiking. She recently added stand-up paddle boarding to her list of fun things to do in Colorado, and has a long time interest in xeriscape landscaping and native plants and wildlife.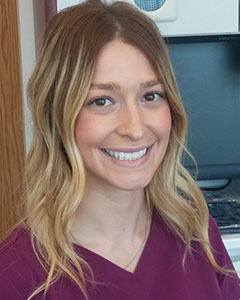 Katie Montogomery — Dental Assistant
Katie is a native of Pueblo, CO, recently moved to the Denver area. A major part of Katie's life has involved competitive dance, from the 18 years she spent with a private studio in Pueblo to her first year in college, after which she became heavily involved in her sorority (Pi Beta Phi). Her Greek activities included serving as the Leadership and Nominating Committee Chair and as the Panhellenic President. Katie earned a BA in philosophy with a minor in pre-dental studies from the University of Colorado – Colorado Springs, and has plans to further her education in a professional dental capacity at some point in the future. Health and fitness are a big part of her life, and Katie spends plenty of time at the gym.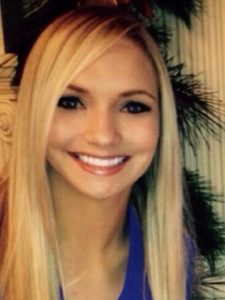 Monica (Moni) Jones — Dental Assistant
Moni is the newest member of our team, but has been a dental assistant since 2005. Moni is a self-described "farm girl" from Walsh, Colorado, and lived and worked in Philadelphia and New York City before returning to Colorado to be closer to her family. She enjoys the excitement of downtown Denver living, exploring by bicycle and on foot with her friends everything our growing city has to offer, including concerts and the many perks of an urban lifestyle.